Players
Steve Brown
National YoYo Master
Steve Brown is a U.S. National Yo-Yo Master, the creator of counterweight (5A) play, and winner of the Donald F. Duncan Industry Excellence award and Trick Innovator of the Year award. In his 17-year career he has designed dozens of yo-yos, performed in nearly 20 countries, taught thousands of kids how to throw, organized dozens of contests, and placed Top 5 in the World Yo-Yo Contest multiple times. He is a co-organizer of the Triple Crown of YoYo, YoYoNews, and the Cleveland Yo-Yo Club, a principal at Shinbone Creative, owner and curator of the Steve Brown Gallery, and the creator of 365yoyotricks.com. Steve is currently sponsored by YoYo Factory, and his signature yoyo is the Roll Model.

Visit stevebrownismyhero.com for links to all of his projects.
2013 Season
Rafael Matsunaga
National YoYo Master
National Yo-yo Master and 2003 5A World Champion, Rafael is known for his highly conceptual and visually-appealing tricks. He is the founder and president of the Brazilian YoYo Association, and head organizer for the Brazilian National YoYo Contest. He spends most of his time disguised as a computer geek.
Jake Bullock
Sponsored by Anti-Yo
Co-winner of the 2007 Trick Innovator of the Year Award, Jake is one of the most gifted and under-appreciated counterweight yoyo players in the world. Jake was a massive force in the early development of tech counterweight play and, along with Jonathan Robinson, ushered in a new style of counterweight play that dominates contests to this day.
Darnell Hairston
YoYoFactory Protege Team
Darnell Hairston is an up-and-coming player from the Cleveland YoYo Club who managed to land a spot on the coveted YoYoFactory Protege Team. Mentored by National YoYo Master Steve Brown, expect to see Darnell destroying contests all over the Midwest in 2013.
Spencer Berry
Your Hero
Spencer Berry is responsible for a tremendous number of the building blocks of modern yoyo play. He is the creator of genre-defining tricks such as Breath, Rancid Milk, and Laceration and is generally regarded as one of the founders of modern yoyo play. His signature yoyo, Walter, will be available in 2013.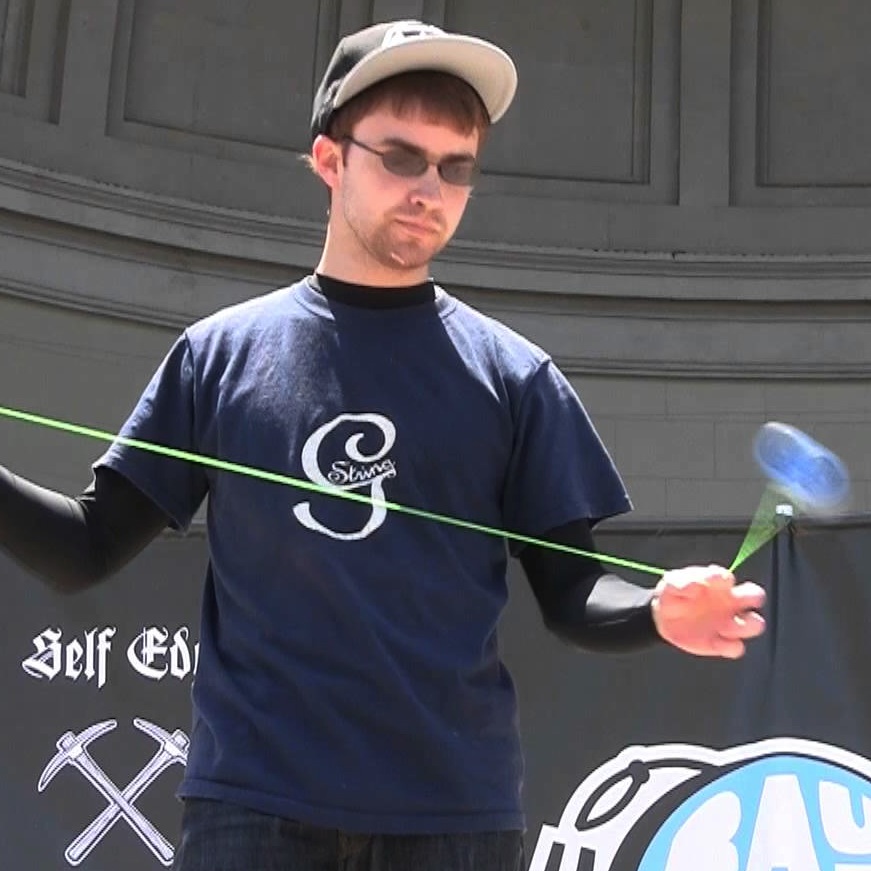 Jacob Jensen
Werrd Alliance
Jacob Jensen, a.k.a. Elephark, is well-known as one of the most creative counterweight yoyo players in modern yoyoing. His constant exploration of incredibly difficult timing-based counterweight tricks is an inspiration to tech 5A players around the world.
2012 Season
David Ung
Sponsored by YoYoFactory
David Ung is a student currently studying Chemistry at UC San Diego. He enjoys science, filmmaking, and bicycles. Although he is a member of the YoYoFactory Contest Team, David is not known for freestyles; instead, he is known for clip videos such as Your Future's With Us and Broke. Follow David on Tumblr, Vimeo, and YouTube.
Nate Sutter
Sponsored by SPYY
Nate Sutter is a 25 year old bartender and body piercer in New Orleans. He's an aspiring amateur chef, a bicycle enthusiast, and a friend to animals everywhere. As a proud member of SPYY, his signature yoyo is the SPYY Dynamo. Follow him on Twitter and YouTube.
Ed Haponik
Sponsored by SPYY
An adept of fixed-axle yo-yoing, Ed Haponik is probably best known for hitting old tricks on really old yo-yos. In 2012, he played only a single wood-axle yo-yo crafted by SPYY. Ed is a founding member of the Light Sleeper Society, a black belt in aikido, and a card-carrying member of the League of Extraordinary Dads. Follow him online at his blog and on Vimeo.
Drew Tetz
Sponsored by Duncan Toys
Drew Tetz is a 24-year-old graphic designer with a bunch of tricks and a debilitating pizza addiction. He used to do a lot of 3A, but it's hard to fit two yo-yos in one pocket, so now he mostly sticks to 1A and 5A. Drew is a proud member of Team Chubby Lovin', Duncan Crew Worldwide, and the Light Sleeper Society.
Guy Wright
Sponsored by SPYY
Hilarious and brilliant, Guy Wright has quickly become a fixture on "favorite player" lists everywhere. Showcasing technical brilliance and casual control, Guy's videos "The Letter Blue", "SPYY Guy Comics″ and "Picnic", have solidified him as one of the most creative and innovative forces in our sport today. His signature yoyo by SPYY is the Punchline.